Management Team
Our business is about relationships, and we have a strong management team in place that understands this. They are committed to furthering the development of our financial representatives through training and guidance, so the representatives can establish enduring and solid relationships with their clients.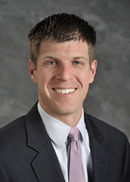 Chet Douglas Bandy, CFP®, CLU®, ChFC®, CASL®
Managing Director
chet.bandy@nm.com
Office 309-454-1600 ext. 19
My Networks:
Chet Bandy, CFP®, CLU®, ChFC®, CASL® is a Financial Advisor who started his career with Northwestern Mutual as a College Financial Representative in 2004. As an Intern, Chet achieved the Power of 10 Award and finished in the top ten for the Mike Gish Memorial Award (given to the top producing Financial Representative in the first year upon graduation).
He became a Full-Time Representative in the summer of 2006 after graduating from the University of Illinois with a degree in Finance. He got off to a fast start, accomplishing the Pacesetter First 40 and Second 60 Awards in his first year. These awards are given to those who write 40 lives in their first 6 months and 60 lives in their second 6 months. Since that time, Chet has written well over 100 more Lives and qualified for the New Client Bonus, Achievement Award, and Life Impact Award on several occasions.
In 2008, he joined the LEAD team and became the College Unit Director in Springfield. 
In April 2011, Chet was named Managing Director of the Bloomington/Normal office.
Chet has made a strong commitment to continuing his education to better serve his clients by completing his CLU® (Chartered Life Underwriter), ChFC® (Charter Financial Consultant), CFP® (CERTIFIED FINANCIAL PLANNERtm), and CASL® (Chartered Advisor for Senior Living) designations.
Chet is also a recognized member of the Million Dollar Round Table, a global, independent association for the world's leading life insurance and financial services professionals, in 2013 - 2015.
He feels very blessed not only to have found a career where he can impact people's lives on a daily basis, but also to be a part of a company who cares about its clients as much as Northwestern Mutual. Because of this passion, he enjoys recruiting, coaching and mentoring Full-Time and College Financial Representatives.
Chet is a member of NAIFA and supports Illinois State University, Illinois Wesleyan University, University of Illinois, and Miracle League of Central Illinois. Chet also supports the local chapter of the Fellowship of Christian Athletes and is a member of their leadership board.
Chet currently lives in Bloomington. He and his wife, Shannon, were married in the fall of 2009. They welcomed their first son, Deklin, into the world in August of 2012, in June 2015 they welcomed their daughter Reese and in September 2017 their son Hudson. They enjoy watching movies, listening to music, watching the Illini, Bears, and Cubs, and spending time with family and friends. The Bandy's are also members of Eastview Christian Church where they are active in a small group.